The Contressa Hair System
Highlights
Natural Look and Feel
Permanent and Comfortable
Closest thing to having your own natural hair
Price Range
Contressa Hair System

Starting at $5000
Contressa pricing is based on diameter of piece and length of hair.
Continental Hair's own Contressa Hair System provides a non-invasive option for treating full or partial hair loss and is designed to create a natural look, feel and experience.
This hair replacement solution achieve a seamless blend with your existing hair by precisely mimicking the style, texture and color of your existing hair, giving you the healthy and natural look you deserve. With a Contressa hair system, you can even participate in high-impact activities like swimming and running that would be impossible with other hair solutions.
These systems are made of real human hair and attached to a breathable base material that serves as a "second scalp." This allows the hair to look as though it's naturally growing and helps provide a comfortable feel while you're wearing it.
Schedule a consultation with the specialists at Continental Hair today to learn if this hair replacement solution is right for you. A specialist will guide you through the process and offer their product recommendations for thinning hair. Call or visit Continental Hair today for your free evaluation and take control of your thinning hair.
The Contressa Difference
The Contressa Hair System restores beautiful hair without getting in the way of your active lifestyle. As soon as your treatment is complete you can return to high-impact activities including running and swimming. The most effective, non-invasive method for treating full or partial hair loss, the Contressa is non-surgical and completely natural looking. If you, or a loved one, are seeking a hair replacement solution, look no further.
Your Exclusive Contressa Provider
During your visit to our Toronto or Sarnia hair replacement studios, one of our specialists will integrate the Contressa hair system to blend seamlessly with your scalp and hairline. Once in place, even your closest friends and family will be unable to differentiate between your hair and your Contressa! Our talented hair replacement experts are here to help you restore your hair and your confidence!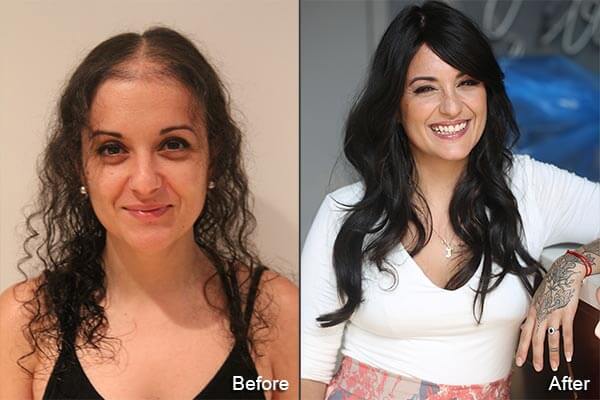 "Second Scalp"
Made from real human hair, each individual piece is hand sewn into a light, breathable base, known as a 'second scalp,' to deliver the appearance of hair growing naturally from your head. Made of polymer resin to mirror the distribution, style and direction of your own natural hair growth, the Contressa system is truly undetectable to the human eye. Most people report that they often forget they're even wearing a hair system.
If you, or a loved one, are ready to learn more about the most advanced hair replacement system on the market today, we encourage you contact Continental Hair today. During your consultation you will learn about all of our hair replacement services in a comfortable, compassionate, no-pressure environment.
As specialists in hair replacement systems, as well as a variety of other top rated solutions, we will help you determine if you are a candidate for the Contressa hair system or another solution. With nothing to lose and so much to gain, why not begin your journey to hair restoration today?