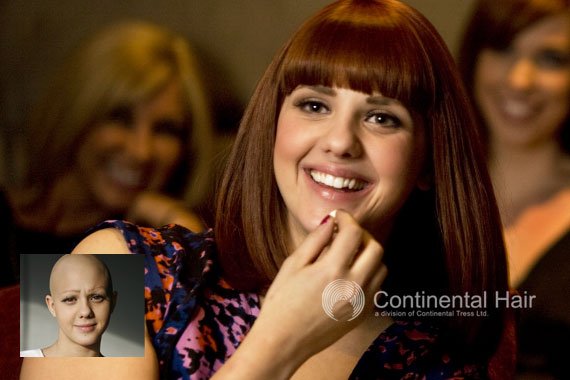 At Continental Hair we are proud to offer an incredible selection of synthetic and human hair wigs. World renowned for our line of superior wigs for cancer patients, we enjoy the distinct privilege of helping patients during difficult times. For most women, losing their hair is one of the most difficult parts of their battle with cancer. Having helped thousands of women through this process, we understand the difficulties they face and we are always eager to help.
Meet Meaghan
We recently had the opportunity to help a woman who is beginning her battle thousands of miles away in Singapore. Meaghan's best friend Michelle is a cancer survivor who turned to us when she was undergoing chemotherapy. When Michelle learned that Meaghan was sick she encouraged her to reach out to us. After visiting a wig shop in Singapore, Meaghan was unimpressed and decided to take Michelle's advice.
Meaghan reached out via email and provided basic information about her size, hair color and preferred style. Through a few brief emails we were able to gather all of the information we needed and had the wig shipped to her within a matter of days. We heard from Meaghan shortly thereafter. We were pleased to learn that her wig had arrived and exceeded her expectations. She even admitted that she was hesitant to have it cut because was is so "gorgeous."
At Continental Hair, stories like these inspire us each and every day. As the leading providers of Toronto human hair wigs, we take pride in what we do and are always pleased to hear from a satisfied customer. If you, or someone you love, are in need of a perruque, please don't hesitate to contact us. With no obligation to make a purchase, you have nothing to lose. We would simply like to have the opportunity to explain your options and to help you make an informed decision.
Would you like to learn more about your options when it comes to wigs for cancer patients? Follow our blog! Here we will be sharing tips and insight on selecting the right wig and more.