Wigs
Highlights
Hand Made
Natural Look
Professional Styling Available
Products
Starting at $1900

Starting at $2200

Starting at $2900
Learn More
Machine Made vs Hand-Made Wigs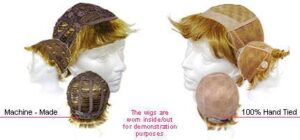 Choosing Your New Wig
The hair replacement professionals at Continental Hair understand the importance of creating high-quality wigs. Even the slightest mistake or shortcut can make a wig look fake, which is why we only offer the best of the best to our valued clients. Most of the wigs we offer our handmade, and we offer both synthetic and natural human hair options. In fact, we don't even offer what most people would call fashion wigs. Instead, we make custom medical quality wigs that are indistinguishable from the real thing.
The look and feel of the hair isn't the only aspect of our wigs that is important. Our cap is designed in a way as to not irritate your already sensitive scalp, which ensures you are comfortable enough to not even remember you are wearing a wig.
Whether you are looking for a wig made from virgin European hair, synthetic hair, or a blend of both, we are here to find the right option for your needs. We also offer salon and styling services to ensure your wig perfectly suits your established look. For more information about the wigs we offer, please contact Continental Hair today.
Handmade vs Machine Made
In terms of design and manufacture, most of our wigs are handmade. Being knotted by hand gives them a much more natural appearance in terms of the amount of hair in the cap, as well as how the hair moves when the wig is worn. It also translates into better comfort, being lighter and cooler than machine-made wigs. Whether the hair is natural or synthetic, hand-knotting makes a huge difference.

Human Hair Wigs
It is of the human hair wigs, however, that we are the most proud. Our virgin European hair is unmatched anywhere. Most wigs use processed human hair from China.The hair must be stripped of the cuticle and bleached in a rather nasty chemical process. "Virgin" hair from Europe has not been treated this way. It is softer and lighter, with a more natural colour and depth of tone, and has much more strength than processed hair. At Continental Hair in Toronto, our beautiful human hair wigs are especially noted for their luxurious natural look and feel.
Human & Synthetic Blend Wigs
There are wigs available that are "Blends" of human and synthetic hair.
Continental Hair carries a select few of these Wigs only. Our strict guidelines of only offering the best of the best continues with these new blends in mind. While we completely recommend these wigs, we caution you to remember not all Blends are equal.
We recommend you treat the blends similar to a full synthetic wig.
Styling
A wig, in the end, has to be styled. Just like something off the rack, it has to be tailored to you. A good stylist can make any wig look good—for a while. But a stylist not experienced with wigs can make the most beautiful work of art look horrible. Styling your wig is important, and that is why we have expert stylists at our main salon, and at our hospital salon, to ensure your wig looks great.
Testimonials