Wigs
Highlights
Hand Made
Natural Look
Professional Styling Available
Products
Starting at $1900

Starting at $2200

Starting at $2900
Learn More
Machine Made vs Hand-Made Wigs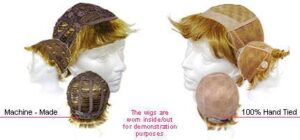 Choosing Your New Wig
The hair replacement professionals at Continental Hair understand the importance of creating high-quality wigs. Even the slightest mistake or shortcut can make a wig look fake, which is why we only offer the best of the best to our valued clients. Most of the wigs we offer our handmade, and we offer both synthetic and natural human hair options. In fact, we don't even offer what most people would call fashion wigs. Instead, we make custom medical quality wigs that are indistinguishable from the real thing.
The look and feel of the hair isn't the only aspect of our wigs that is important. Our cap is designed in a way as to not irritate your already sensitive scalp, which ensures you are comfortable enough to not even remember you are wearing a wig.
Whether you are looking for a wig made from virgin European hair or synthetic hair, we are here to find the right option for your needs. We also offer salon and styling services to ensure your wig perfectly suits your established look. For more information about the wigs we offer, please contact Continental Hair today.
Handmade vs Machine Made
In terms of design and manufacture, most of our wigs are handmade. Being knotted by hand gives them a much more natural appearance in terms of the amount of hair in the cap, as well as how the hair moves when the wig is worn. It also translates into better comfort, being lighter and cooler than machine-made wigs. Whether the hair is natural or synthetic, hand-knotting makes a huge difference.

Human Hair Wigs
It is of the human hair wigs, however, that we are the most proud. Our virgin European hair is unmatched anywhere. Most wigs use processed human hair from China.The hair must be stripped of the cuticle and bleached in a rather nasty chemical process. "Virgin" hair from Europe has not been treated this way. It is softer and lighter, with a more natural colour and depth of tone, and has much more strength than processed hair. At Continental Hair in Toronto, our beautiful human hair wigs are especially noted for their luxurious natural look and feel.
Styling
A wig, in the end, has to be styled. Just like something off the rack, it has to be tailored to you. A good stylist can make any wig look good—for a while. But a stylist not experienced with wigs can make the most beautiful work of art look horrible. Styling your wig is important, and that is why we have expert stylists at our main salon, and at our hospital salon, to ensure your wig looks great.
Testimonials
101 reviews on
Sarah Middleton
June 1, 2023
They always provide the highest quality hair with the most professional team. Michael will make you feel comfortable and you can tell that he truly cares.
Quality products. Staff are friendly, professional and talented!
Jenna Auger
March 19, 2023
After experiencing hair loss from both lupus and alopecia, it has been my goal and dream to go to continental after hearing about it through a fellow alopecia sister a few years ago. What I can first say is my gosh , I wish I didn't wait the time that I did to go and I hope no one else does either ! To say it is now my favourite salon would be an understatement , and I can confirm all of the wonderful things I heard are more than true. The salon itself is beautiful and the environment is unlike any other. As someone still fairly new (6 years) into my hair loss and acceptance journey , it is still nerve wracking going somewhere new and the process of looking for a wig can be an emotional experience for me. From the minute I walked in the door at continental all of those feelings went away. Michael the owner, and the staff, are so remarkable and make you feel so comfortable, safe, and confident. I truly believe you won't find a more welcoming place. They work with you to find exactly what you are looking for. You may even find what you never knew you should have been looking for but love, because dang !..do they know their stuff ! The wig I found is truly the closest to my own hair and self that I have found so far in my years of wearing wigs. I couldn't be happier ~ A week after my first appointment and I am still finding myself crying looking in the mirror over how happy I am and how like myself I feel. With that said , the wigs at continental are without a doubt the most comfortable , high quality, and absolutely stunning wigs I have found and that you will find. I promise that! Michael the owner is one of the kindest , most compassionate, and supportive people I have now had the privilege of meeting. He is so passionate about the salon and what he does as well, which makes all of the difference. More so, he is incredibly knowledgeable, as is all of his staff. He went above and beyond to give me an amazing experience , and he answered all of my MANY questions about wigs with patience and enthusiasm. I would 100% and honestly recommend continental to anyone and everyone and truly could never say enough about this incredible place. I didn't stop smiling the entire time I was there (which shout out to my friend , captured in a photo of my first time seeing the wig on me) I want to thank Michael and all of the staff from the absolute bottom of my heart for restoring my confidence and self love (that a lot of times had felt I had lost ) and for helping me feel the most like me again in a VERY long time (still crying and smiling). They most definitely have a new lifelong customer in me !
Avery Lupmanis
March 6, 2023
10/10 would recommend Continental Hair! I have always had extremely positives experiences at the salon. All the staff are very friendly & welcoming and make you feel very comfortable. The quality of the wigs is amazing, I own multiple wigs from here, all comfortable and natural looking. The staff will help/work with you to find the perfect wig that you feel confident in.
Kaitlyn Cherry
February 25, 2023
After experiencing hair loss due to alopecia, I visited Continental Hair in search of my first wig. From the moment I stepped in, Michael and Laila made me feel at ease and took the time to answer all my questions. They helped me select the perfect wig and took the time to trim and style it. It looks and feels just like how my original hair did! I am grateful to have found not just an exceptional wig salon but also a support system along the way. Thank you Continental for restoring my confidence and helping me feel like myself again.
Marcy Gallant
February 12, 2023
Seriously my all time favourite wig salon, till this day! Michael, the owner and all of his staff are truly remarkable in every way. The environment at Continental Hair is unmatched. You won't find a more welcoming, uplighting and thrilling place. The wigs are superb, and they are always looking our for your best interest. Magic is created within those walls! Any hair dream you've ever had will come true, all you gotta do is ask. They have a hair system for everyone. Couldn't recommend this salon more!
Chris Newman
February 12, 2023
Continental hair is the best wig salon I have been to in Toronto, they have a great selection of human virgin european hair wigs and toppers.I am so happy and pleased with every topper i have bought from them.The owner Michael suba and his staff are so sweet friendly and very helpful ,they know their stuff don't be afraid to ask anything you need to know.I love seeing them and i hope you will too.Thank you Michael and staff for helping me feel better,means a whole lot to me.
Terry Perusini
February 3, 2023
A friends daughter was going through Chemo treatment. They brought her to see Mike and his staff. They put together the most fantastic hair piece for her and treated her with so much compassion. I will never forget the smile they put on her face. They go above and beyond! Amazing!!
Sandra Lanoue
October 7, 2022
I am so grateful ! Smiles and good vibes I really feel healthy with my wig regardless of the challenge of treatments! Thanks for taking care of me and showing me how to do my wig hair . I love the hair cut 💜