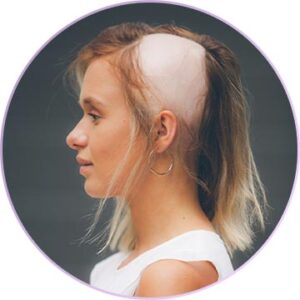 This is Cassie. Cassie started noticing her alopecia hair loss in 2019. It was very aggressive and soon she had lost a lot of hair.
Cassie was referred to Continental Hair by a friend of her family (also a client here) and in the spring of 2020, just as we were able to open up, she and her mother came to see me. She chose the most beautiful wig in the place, a long blonde virgin hair wig (we call that model the "Jay" wig) and she had us colour and cut it.
She now has several wigs from us, she really really likes the new Allison design. With its silicon tabs and lace front its a natural, comfortable, and secure design that has quickly become a favourite. She loved wearing it in San Diego…
Cassie is helping young women with alopecia through her blogging and posting. Her Instagram page and YouTube channel are a must see.