Established in 1964 by husband-and-wife team Peter and Emma Suba, Continental Hair Ltd. has been retailing the finest quality custom and ready-made synthetic and human hair wigs available for almost sixty years. Serving tens of thousands of clients across Canada, Continental Hair Toronto has won the hard-earned respect of clients and healthcare providers alike.
Founded in Toronto in 1964

Over 10,000 clients served

Founder of Wigs for Kids
Continental Hair has two locations in Toronto and one in Sarnia, Ontario. The main salon is located on Avenue Road, north of Yorkville Avenue. Our uptown centre is located at the Toronto Sunnybrook Louise Temerty Breast Cancer Centre on Bayview Avenue, north of Eglinton Avenue. Our newest location is located on Cath cart Blvd, just 10 minutes from the border.
Both locations combine ultra-modern technology with a comfortable atmosphere and caring staff. Our state-of-the-art facilities are designed for today's new and exciting techniques for wigs and hair restoration. Our total commitment to offering the best service and the latest in hair retention technology provides you with the finest results available today.
Call Continental Hair for a private consultation with your personal consultant, where you can openly discuss your concerns and get answers to all of your questions.
Our staff believes in educating and informing you about the latest techniques and methods available today.
We know you will agree that the best decision is an informed decision. Our goal is to give you, our client, the best technology and the latest techniques available for your hair retention needs at an affordable price. Call today for a free appointment to find out just how rewarding and affordable hair retention can be for you.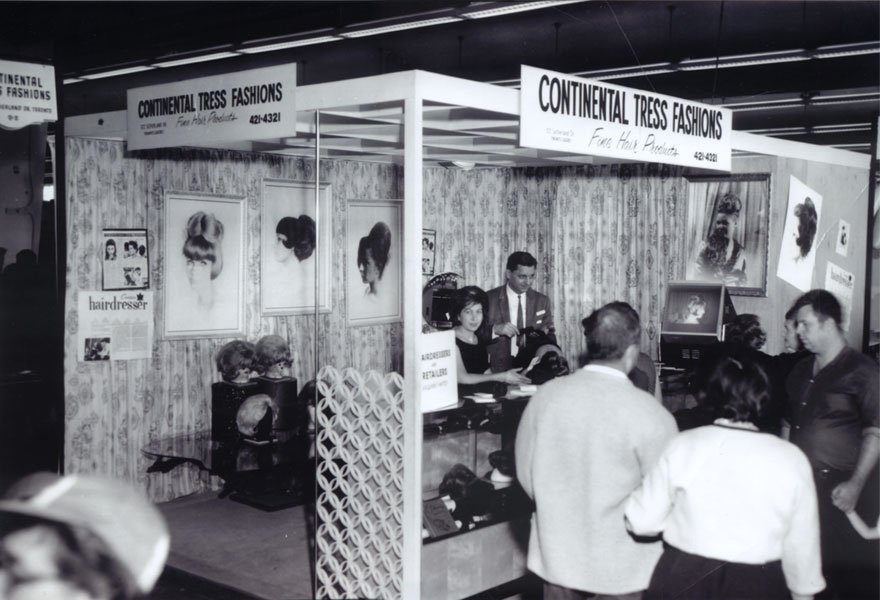 Continental Hair was founded in 1964 by Peter and Emma Suba. They were hair stylists in the (then) Toronto suburb of Leaside. They quickly made a name for themselves in providing the highest quality wigs and hairpieces for women and men.
This is where Continental Hair started working with virgin European human hair wigs and hair replacements. It is not a new technology, but one that many in the business abandoned for the more convenient and cheaper wigs.
As the fashion for wigs reached its crazy heights in the early 1970's Continental Hair never went off the path of only providing the highest quality products, both in retail and wholesale. When the fashion changed and women no longer wanted extra hair as a fashion accessory, over 95% of Continental's competition had to move on.
But Peter and Emma stayed the course, retailing to the many men that were getting into hair replacement, and making sure that women going through cancer treatments had access to the finest wigs available anywhere. Synthetic wigs were also available, and still are, but they have to be the most natural and comfortable available.
In the eighties, many saw the opportunities in the hair replacement market and people started getting back in. There were not a lot of people left that had the experience to make sure that their clients were getting the best in the business and became dependent on huge wholesalers for their product. A flood of the cheapest wigs and 'other stuff" became available.
Continental Hair even tried to carry some of the better fad stuff but it did not work. "We wanted to provide what so many people seemed to want," says Michael Suba, Continental Hair's president, "but our clients would have none of it. It was an experiment that we just won't go back to. But we tried."
In the nineties, it was the Suba family's time to be hit with cancer. Peter and Emma's son Michael was diagnosed with Hodgkin's disease in February of 1990. After a year of treatment that included chemotherapy and radiation he decided that he wanted to go into hair replacement. "I never wanted to do it," he says, "until I would be in the cancer centre and I saw what a difference we were making."
As the nineties progressed Continental Hair decided that its real strength was in the women's line. "All the hair replacement places," says Michael, "then and now are primarily geared to men. They say 'oh we do women too' but that does not cut it. We primarily are in business for women's hair replacement needs and are unique in that regard.
In 1998 Continental Hair opened a salon in at the Toronto Sunnybrook Regional Cancer Centre in north Toronto. The salon provides a convenient and comfortable environment for women and men exploring their hair replacement options during chemotherapy. It is the only private wig salon in a Canadian hospital.
Continental Hair still has the largest stock of virgin European human hair wigs available, as well as high quality processed human hair items and synthetics as well. Over the past several years we have been experiencing more women wanting to have permanent attachment solutions.Now Continental Hair is exploring exciting new designs and techniques to bring women the very best in hair replacement.
"There are some exciting new designs and techniques coming out that for the first time in years have only a woman's hair loss in mind," says Michael Suba. "This is going to be a big help to women with all kinds of hair loss problems to look better and fell better about themselves."
Michael Suba never planned to follow in his parent's footsteps and run the family business, Continental Hair. However after being diagnosed with Hodgkin's disease in February of 1990 and enduring a year of treatment that included chemotherapy and radiation Michael decided to become involved with hair replacement.
"I never wanted to do it," he says, "until I was in the cancer centre and I saw what a difference we were making."
Today, Michael is the owner of three Continental Hair locations, including one in Toronto Sunnybrook Regional Cancer Centre in north Toronto.
Michael is also a Certified Hair Coach through Bauman Medical Group.
Michael has made the focus of Continental Hair to help all women find high-quality solutions for hair loss and help them look better and feel better about themselves.
Michael
President, Consultant, Designer
Continental Hair's 2nd generation president comes from a family of wig makers.
Davide
Hair Replacement Technician, Stylist, Professional Wig Maker, Trichology Specialist

A magician with hair and hair systems. Clients love his scalp massage. Try one!
Vessela
Manager Sarnia, Hair Replacement Specialist, Hair Artist
Vessela is a perfectionist when it comes to styling, having been in the hair replacement industry for over 17 years, and with Continental Hair since 2013!
Rhonda
Manager Sunnybrook Salon,
Stylist/Technician
Rhonda is an expert hair replacement technician. Her professionalism and experience comes through every day and with every client.

Laila
Hair Replacement Technician & Stylist
Laila is one of our most experienced colour specialists and one of Toronto's most talented wig stylists.
Experienced at Toronto's best salons, she is also an exceptional extension artist. Clients love her work!
Corale is one of the most experienced wig stylists in Canada, and has a long history with Continental Hair!
Sara
Stylist, Colour Tech, Asst. Manager Sarnia
Sara is the Sarnia salon's Colour and Styling Expert! She's fantastic!