Postiche / Topper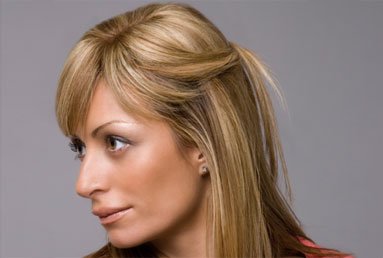 Highlights
Perfectly natural appearance
Lightweight and breathable
Easy to use and maintain
Price Range
The Continental Hair Postiche (or Topper) was developed by Emma Suba in the early 1990s for women with thinning hair.
Her aim was to design a woman's hair replacement unit that was light and easy to wear, anchored the hair well but was not heavy or warm, and would give women with thinning hair an extra 10-20% of density. What she developed is still the very best women's daily-wear hair replacement for thinning hair. And when it is used with virgin European human hair, there is nothing to match it for natural appearance and style.
For Light to Moderately Thinning Hair
Sometimes a full wig isn't necessary, which is why Continental Hair is proud to offer the hair postiche, also known as a topper. Developed by Emma Suba, this product is designed for women who are experiencing light to moderate hair thinning. If you still have the majority of your hair but it is visibly thin on the top of your scalp, you can benefit from one of our hair postiches.
This product can give your hair up to 20% more density, and it is made from only the highest quality of materials. The base consists of a hexagon mesh and polyester silk underside, both of which work together to maintain the postiches overall shape. Simply attach it using comb clips and you will be ready to go in 20 seconds or less.
Blends with Existing Hair
One of the most impressive things about our hair postiches is that they can be seamlessly blended and styled with your existing hair. It weighs almost nothing, and it will hold up for years to come. If you have any questions about what our postiches and toppers can do for you and your hair, contact the professionals at Continental Hair today!
The size of the postiche or topper will vary according to the woman it is being designed for. It is usually only four inches by five inches. The base is in two layers: a hexagon mesh that anchors the hair, and an underside of polyester silk that helps it keep its the shape. Both materials are breathable and super light, so the unit weighs next to nothing but can stand up to years of everyday wear. The postiche is attached using comb clips and takes less than twenty seconds to put on and take off.
Styled the Way You Want
In terms of styling, it can be blended with a woman's own hair in just about any direction so she can have the style that she wants – beautifully, naturally, and easily.
A very natural "skin part" can be integrated into the design so that even under the closest scrutiny it is virtually undetectable. And, as the hair is custom blended to match the wearer, it is always a perfect match.
Testimonials