Elevate Magazine / Winter 2007 / Reader Tested: At a loss… & Perfect Fit
Reader Tested
By Celina Harrison, Elevate Reader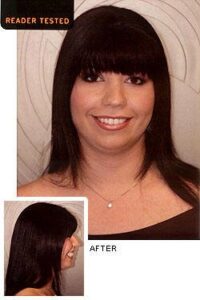 Three years ago, I was losing my hair. Now, my new hair is better than natural!
It was just over three years ago that I caught a glimpse of myself in a security camera and noticed the hair on the back of my head was thinning. Soon afterward, people started commenting how light my hair was, which didn't make sense to me at the time, as I have a dark-brown hair. Eventually I realized they meant that my hair was sparse in certain areas, and I became very self-conscious. I felt like that was the only thing people noticed about me. I tried not to think about it, but it's hard to ignore your own appearance.
Then last year, while reading Elevate, I noticed an article about Continental Hair, a Toronto-based women's hair-replacement studio. I decided to check it out and see if there was a hair-replacement solution that would suit me. I was nervous when I first walked into Continental Hair, but owner Michael Suba made me feel completely at ease. Michael fitted me with a postiche – a discreet, easy-to-wear hair system that matched my busy lifestyle. It didn't take long at all to get used to wearing the postiche. Now, it feels so light and so natural that I don't even notice it. I can even swim with it on and love that people can't even tell I am wearing anything other than my own head of hair. The best part is I can style my hair with the pastiche, just like I did before my hair began to thin. My sister is getting married soon, and I'm even planning to get an updo with my new fabulous hair!
Perfect Fit
With so many different types of hair loss, ranging from full to partial loss, finding the hair system best suited to individual needs is an essential part of achieving a top-notch look. Our quick and easy-to-follow hair-loss reference chart, provided by Continental Hair's Michael Suba, is a great starting point to finding the perfect hair-replacement solution. Suba also recommends a one-on-one visit to best assess individual needs based on lifestyle and type of hair loss.