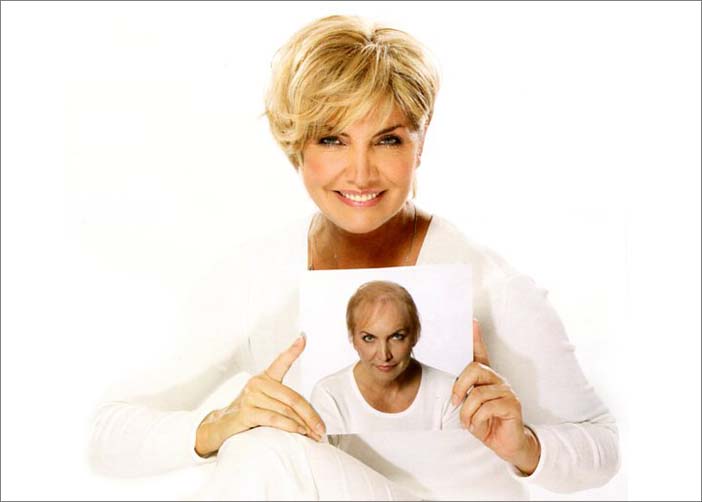 Have you had chemotherapy or radiation? Are you losing your hair as a result of these treatments? Have you noticed that your hair is thinning and that you have bald spots? Do you feel fear or loss?
I recently met a lady who was undergoing chemo and she had a turban on her head. She was obviously self-conscious about how she looked and didn't look me in the eye when we were speaking. I felt badly for her not only because she was obviously going through a very difficult time in her life, but because she was afraid of what I thought of how she looked. Although I noticed her lovely face and soft speaking voice I couldn't help but notice her fear.
She told me that she knew that hair loss was inevitable due to her condition and the various treatments necessary for her to overcome her disease but she never really thought about how she would look. When she first began to notice her hair falling out in chunks she began to panic and for weeks she refused to leave her home. She went to doctor's offices and immediately returned home. She lowered her head when walking to and from the medical building and avoided eye contact with everyone but the medical personnel working with her. She was embarrassed to be seen without the turban covering her bald head even front of her own family members and it began to take it's toll on her self-esteem. She was becoming a recluse and depression began to set in.
She was afraid of strangers and chastised herself for being vain. Even though she beat herself up for feeling this way the fear grew until she spent most of her time crying and having no life at all. I was overwhelmed by her sadness and wanted to help her.
I decided to let her know about some of the many methods of hair restoration; some temporary and some permanent. I didn't presume to tell her that she had absolutely nothing to be afraid of…cancer is not something easily overcome, I know…but; she could rid herself of her fear of what strangers thought of her appearance.  I told her that she could get a free evaluation in order to explore her options. I'm happy to report that she is now wearing a beautiful wig from Continental Hair and she is as beautiful as she was prior to starting her chemotherapy.