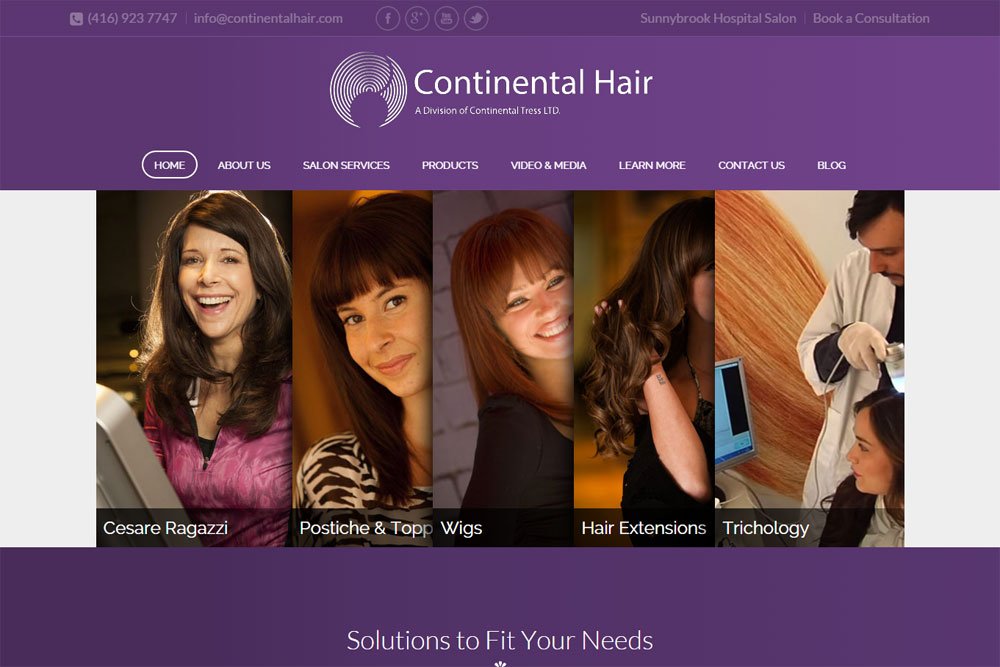 Wednesday, July 22, 2015 – Toronto ON – For over 50 years Continental Hair has had an open door for our clients, providing the best products, service and counsel on all things related to hair loss and hair systems. We wanted to continue that personalized, friendly approach on our website, welcoming you to our virtual front door with a new site that was created with you, the consumer, in mind. We are proud to announce the launch of our newly designed website: Continentalhair.com.
We know hair loss can be frustrating. We wanted to diminish that frustration by creating a place where you could learn more about your specific condition and needs in the privacy of your home; find and compare products and price points; and understand our approach and offerings as well as who our team consists of.
Our website's fresh new look, user-friendly navigation, informative videos and product or condition-specific search functionality were painstakingly created to give our clients and their confidants the best online shopping and research experience. And we wanted it to look the way we want you to feel after you walk out our doors – beautiful. To celebrate our new site, and in lieu of a champagne toast, we wanted to offer anyone who mentions our new site launch to us a 5% discount on services and products. It's our way of saying thank- you for visiting!
We know you're busy so we made it easy to browse through our five main Product Offerings on the home page to find the system that suits you best, featuring Contressa Scalp Prosthetics, Wigs, Postiches & Toppers, Hair  extensions and Trichology Treatments, or simply click on one of the condition-specific Solutions windows to find information on solutions for Chemotherapy, Thinning Hair or Alopecia.
ADDITIONAL FEATURES INCLUDE:
ONLINE QUOTE REQUEST
It can't hurt to ask. Don't know what you want or don't have time for a complementary in-salon consultation? Ask for a quick and easy quote.
VIDEO GALLERY
Explore our multi-media gallery featuring our library of engaging videos, including how-to's and why-to's.
BLOGS
Our regular blog posts provide you with first person accounts from our clients or expert tips and tricks from the best in the biz, and our salon.
PRODUCTS BY BUDGET
Don't know where to start or how much to budget for? Our easy reference chart breaks down our offerings by price point and provides detailed descriptions of those options.
Continental Hair is a proud partner of Sunnybrook Hospital where we host a local salon within the M wing. We are also the founders of The Wigs for Kids Program. Our mission is to take care of you and give your peace of mind. Our goal is to give you a safe and informative place to learn more about your hair enhancement options. We hope that you will enjoy browsing our new site and know you will find whatever it is you are looking for.
Once you're done browsing we invite you to come visit us at our main location at 92 1⁄2 Avenue Rd. in Toronto.
For more information please visit our site at: continentalhair.com. To speak to owner Michael Suba about solutions for hair loss and thinning hair, or to learn more about his own remarkable story, please contact him at: