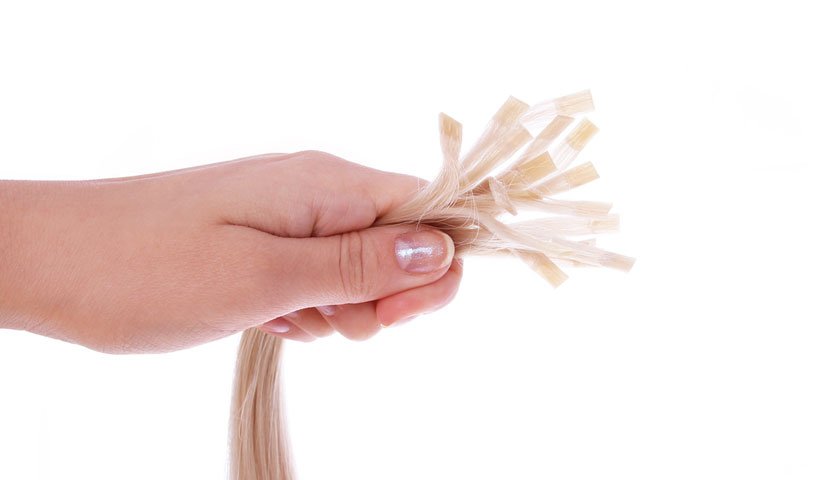 I love hair extensions. They are a great way to have fun with your hair. But they have also proven to involve a good deal of risk of damaging your hair as well. I was the first person in Toronto to do the "bonded method" of extensions in the late 80's. And I was the first to swear off of it.
The bonded-method of applying hair extensions is where a small bunch of hair has a glue tip that is melted onto a person's hair near the root. It can be a very nice look (although sometimes can be a bit "stringy" at the ends) but the real damage is done on removal. Its like getting 200 bits of bubble gum out of someone's hair. And the matting that occurs above the bond is just awful.
The Last Straw
The end came when I had a lovely young woman that had just arrived from London, England. She had the bonded extensions and she asked if I would removed them. I usually would not work on someone else's client but I am a sucker for an English accent.
She had lovely blonde hair, and I was as gentle with the removal as anyone could be. The way these are removed is that you put acetone on the bond to soften it, then crush it with pliers, then try to comb out the dreads that have matted above the bond. At the end of seven hours of doing this her hair was just a stringy mess. I was appalled. We did what we could but it just had to have time to grow out. I committed then and there that I was not going to hair extensions again. And all during the 90's, while some salons were getting rich on this method, I stuck to my vow.
A Better Solution
There have been other methods that I have tried but it was not until I saw the tape extensions that I decided that finally there was something that looked great, was easy to apply, and did no damage to a woman's own hair.
Like anything there are different levels of quality. I will only use the tape extensions that are made with European hair. This is not as coarse as other hair and is able to blend better with a woman's own hair and is undetectable. They weigh next to nothing and are reusable so they are a great value. I love what they do for my clients.
I will end on a cautious note; extensions are for giving a woman longer hair. They are NOT to be used as a hair replacement system. I know that there are stylists out there that do this and it always ends up causing more stress on the woman's hair and causing more loss. For a woman with thinning hair she should talk to a hair replacement professional about her options.
That said, hair is the ultimate accessory and should be fun. And that is what these extensions are able to give you.
Have fun with your hair 🙂