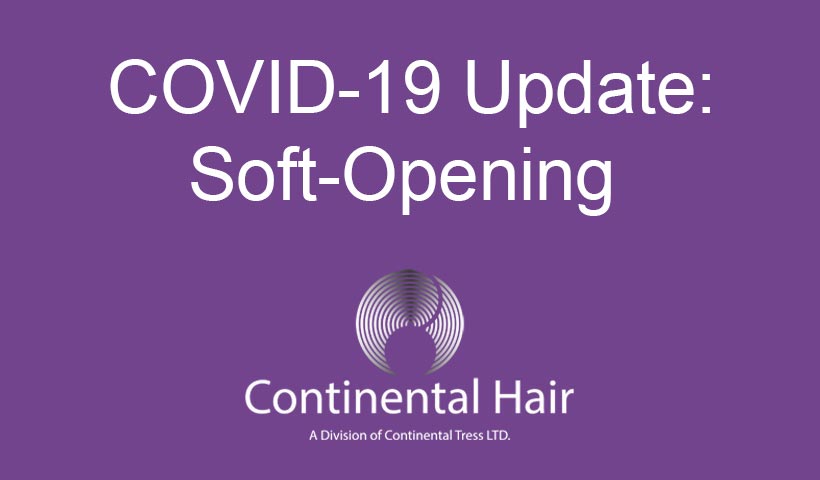 Dear Continental Hair community,
We remain healthy and sane and hope this message finds you in similar spirits. Our top priority remains to ensure the health and safety of our team, clients and community – we all play a role in public health. We are closely following Government of Ontario announcements and have interpreted the "retail" aspects of their new guidelines as allowing us to open certain aspects of our services.
We take our responsibility to provide a safe, sanitary and comfortable salon very seriously and would like to familiarize you with our planned re-open policies. Not to worry, we will remind you of these new procedures via appointment confirmation and will need your consent to the relevant terms and conditions.
Arrival Time
Our biggest goal is to limit the number of people in the salon at the same time. Hence, we ask that you please attend your appointment by yourself and arrive 5 minutes prior as a waiting area will no longer be available. We will guide you to your assigned space and encourage you to stay in that area for your visit.
Limited Availability
To achieve the best social distancing possible, we will only be using only one client per floor and will need to make schedule changes. Right now we cannot perform any services that require a client and staff to be in proximity to each other. So no work can be done on your own hair or on a permanent attachment system. Only work on a detached wig or postiche, such as a wash and set or colour, can be done while you are at a distance. As our schedule is now a complete mess please be patient as we juggle everyone's requests.
Protective Equipment
It is mandatory that you receive your service wearing a mask; please bring one as we will have limited quantities. Everyone working will also be wearing a mask.
For the sake of sanitation, we will be providing all clients with a protective layer, neck strip and towel.
Hand Washing & Sanitizer
Upon arriving, please sanitize your hands with either a 70% alcohol gel or soap and water at our designated wash station. We will be washing our hands before and after each client as well if necessary to leave and return during a service. Further, all relevant tools will be cleaned and disinfected before and after each appointment.
Health Check
We will confirm you are feeling healthy- no fever, cough or difficulty breathing. Also expect to have your temperature taken when you arrive with a contactless infrared thermometer. Any member of the team with a temperature above 99 Fahrenheit will be sent home, advised to seek medical attention and welcomed back when fever and any other symptoms of illness do not exist.
Limits to Personal Items
We ask that you limit your personal items to fitting into one small bag that remains in your assigned area. Please plan accordingly as no food or drink will be permitted and we will unfortunately not be offering any beverages.
Payments
To limit front desk interactions, prepare to pay for services and products with a wireless pin pad from your chair and make your next appointment requests via email.
Salon Environment
We are working hard to get our space health ready. We are removing all extra objects and furniture so that we can effectively clean throughout the day. We are committed to getting this evolving situation right. Our health depends on it.
Video Consultations
For those who would prefer to stay at home, we are offering video consultations to anyone interested. You'll need either a computer with a webcam and microphone (most laptops are equipped with these) or a smartphone. Right now we use Zoom.
Please contact us via phone or email so we can make the arrangements!
————
In the meantime, we encourage everyone to stay informed and follow the advice of health care officials.
Thank you for your ongoing support.
Michael