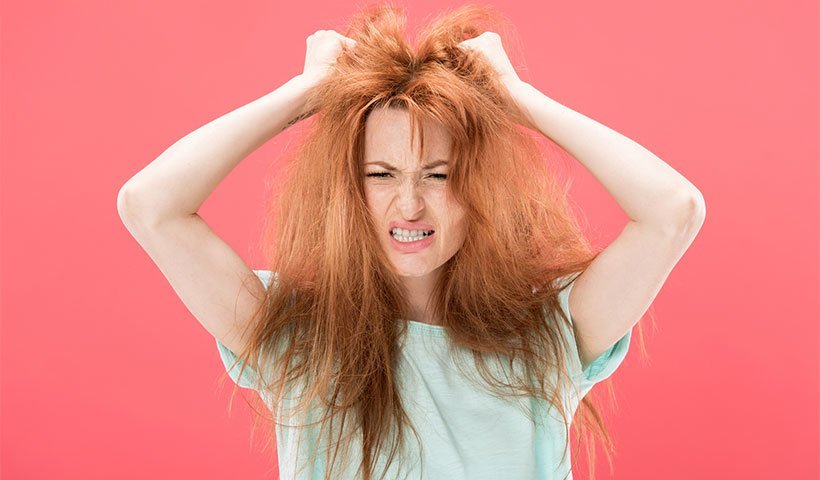 Every year or so this happens to a client of mine. I am actually surprised that it doesn't happen a lot more considering we work with virgin hair so much. But when it does happen it can be very traumatic. And all too often clients come to us after the fact when we are in damage control mode. Let's see if we can change that.
Follow the instructions
When you are washing your wig or hair system, it might seem obvious, but you really are better off reading the instructions on how to care for it. Yet sometimes, even if you care for it correctly and even in an older piece that has been worked with for years, something can happen and the hair starts to tangle. This is more likely to happen with virgin hair.
The downside of virgin hair
Virgin hair is top-quality hair, prized for its natural beauty. One of the reasons for this is that it still has the cuticles on the hair shaft.
But it comes at a price.
Because the hair is knotted into the base of the wig or system, the hair shaft must be folded at the knot.*  When this is done, the hairs on the short length of hair after knotting (what I call the "returns") have their cuticles going in the opposite direction than the longer part of the hair shaft. When wet and agitated roughly, the cuticles will start to barb, and then tangle, and then even dread. This is usually not what you want to happen to your beautiful investment.
DON'T brush it
When you first see some hair bunching (wigmakers call it "flowering" because the loops of hair going back in on itself look like petals) DON'T DO ANYTHING! I mean this. Most people will panic and start trying to brush it out aggressively. This makes it worse by binding the cuticles together more.
DON'T condition it
Some will put lots of conditioner on it. That also makes it worse. The moisturizers make the hair elastic and when you try to comb the knots out the hair shaft will stretch out and then snap back, tangling the flower some more.
DO let it dry
So you literally do nothing. Nothing at all. You go watch some TV or do some gardening or call a friend. Just let the hair dry on its own. When that's done the hair will be strong and you can work with it.
DO tease it out gently
You take a narrow tail comb, or I even use the tail of a colour comb, and gently tease the hairs out 1 or 2 at a time. It's time-consuming but if you have stopped when you first noticed the flowering you should not have too much to do. Be patient. When you can have your comb fall through it you can try gently washing it again. Slow and easy. It should be back to normal.
Virgin hair is the most natural there is and I think that there is no better way to get a natural look. The terms "remy" and "virgin" hair have been abused and in many cases, the original meanings have been lost in a rush of marketing. But it does have its downside. Be careful. Don't panic. It will be fine.
If you have any questions about caring for your wig, feel free to email me with any questions michael@continentalhair.com, or on our Facebook page.
All the best,
Michael
*This is when the hair is knotted properly with the root to root and tip to tip (what the term "remy" hair refers to). If the direction of the hair is mixed then this is a much more serious issue.