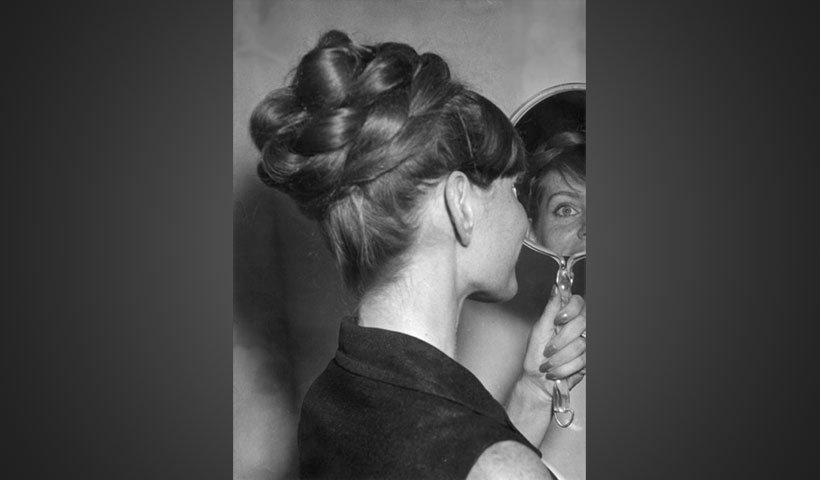 Most women have no idea that the postiche even exists. The few who do know call it by its modern name, the "topper". But its been around since my mother invented it in the '60's (my father named it, sorry). Back then it was more of a fashion statement than a hair loss solution. But Continental Hair always designed them with virgin European hair so they would look AMAZING. I have a client (who unfortunately has decided not to let me use the photo) who had my mother make her one of these for her wedding back in 1968. The one she wears now that I made for her is A LOT more subtle.
The way the modern Postiche came about was that in the early '90's I was making a hair system for a client that wanted it permanently attached. She had thinning hair and this small hair system was bonded (glued) onto her her head. She moved away to Europe and I had an extra one for her so when a new client came to see me I saw that it was a perfect match for her hair. She did not want it bonded. We used comb clips for men's hairpieces for years so I had my stylist add some clips and it worked!
I played around with the materials and the design over the years. The quest for the perfect postiche was on!
In the design of, well anything, there is always the tug of war between something that is natural and something that lasts. I can make a postiche that will last until the sun explodes but it will not be very comfortable or attractive. Most toppers are made on a base of what is called a fine monofilament, and also a welded monofilament. These have been used in men's hairpieces since the '60's. After several designs in the late '90's I came up with the "Suzie" design (named after a client). What I was able to do was get a Japanese fabric which was described as a "polyester silk" as the base material. This is light and breathable but, like silk, is stronger than it looks.
The above are some examples of the "topper." Continental Hair does NOT carry these. They are basically either a wig with part of the cap removed or men's hair systems with longer hair. These do not give a women a natural look, especially when using processed hair.
I know that virgin hair is very expensive (and getting more so almost by the day) but that is the only way to get a truly natural look. Also what needs to be considered is the density. The majority of women that come to Continental Hair for the first time are very worried about suddenly having "a lot" of hair. So a light density with virgin hair will give her a natural look that is believable and enjoyable.
The Suzie design below is the best I have seen in terms of delivery a natural look with a durable but comfortable cap.
The Suzie Design
The lightweight base looks like its delicate but it is not. These usually last 2 – 3 years and I have seen some last many years longer. Just think how long a pair of jeans last if you wore them every day. Not nearly as long.
So the Postiche has come a long way. and it keeps getting better and better. The design, the workmanship, the hair and the styling all combine to make a beautiful look for a woman that needs just a little more hair. I am very proud that Continental Hair has what I have to say is the class of the field.