Sunnybrook Foundation News / April 2008 / volume 3, Issue 1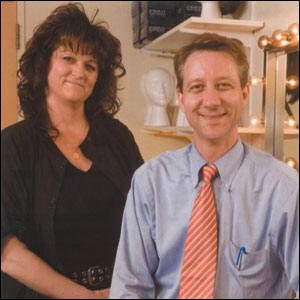 Continental Hair is helping patients to look and feel better at Odette Cancer Centre
Over 50 years ago, Peter and Emma Suba established Continental Hair, retailing the finest quality custom and ready-made human hair and synthetic wigs for thousands of clients across Canada.
Their son, Michael, who now manages two locations of Continental Hair, had not planned on following in his parents' footsteps until he was diagnosed with Hodgkin's disease in 1990. After a year of treatment that included chemotherapy and radiation at the Odette Cancer Centre, Michael decided he wanted to make a career for himself in hair replacements.
During a chat with a member of the support services team at one of his follow-up appointments, Michael learned that a box of wigs had been donated to the Centre.
"The wigs were old and dirty but we washed and styled them," says Michael. "After seeing the reactions of patients, the Centre staff realized that having an onsite salon would be incredibly valuable. I submitted a proposal and opened the second location of Continental Hair in the basement of the Odette Cancer Centre in 1998.
About 90 per cent of Michael's clients at the Sunnybrook location are patients receiving treatment from the Centre.
"I gain understanding, respect, inspiration and empowerment from my clients. Whether it's a patient going through chemotherapy or someone who has survived a fire," says Michael. "Nothing gives me more pride than doing a consultation with a client who is nervous that they will look foolish, and then seeing the look on their face when they realize that they can have beautiful hair."
Michael has generously donated $50,000 to the capital expansion of the new Breast Cancer Research Centre. The Centre will allow Sunnybrook to respond to changing patient needs with research, screening and treatment areas in close proximity for improved patient care, and a coordinated and comprehensive range of services for our patients based on the latest medical breakthroughs.
"Helping to restore a person's confidence is exciting for me," says Michael. "I see their eyes light up when they realize despite going through treatments they can still look amazing. There is something special about helping people feel good about themselves."
"I've had ties to Sunnybrook for decades," says Michael. "Sunnybrook saved my life, and I strive in my business to have the same exemplary professionalism as the staff here."
SOURCE: Sunnybrook Foundation News / April 2008 / volume 3, Issue 1 [www.sunnybrook.ca/foundation]